Case 1 of the NEJM's new series looks st Septic Shock.  In case you missed it, this series involves the presentation of a critical care case with a specific clinical question that you can vote and comment on. An editorial then follows from a world expert discussing the case and your votes.
The first editorial and introduction to the series is here (for free)
The first poll question got stuck in with some core sepsis hot topics asking about the use of intravenous immune globulin, steroids and statins in a 77 year old man with intraabdominal sepsis.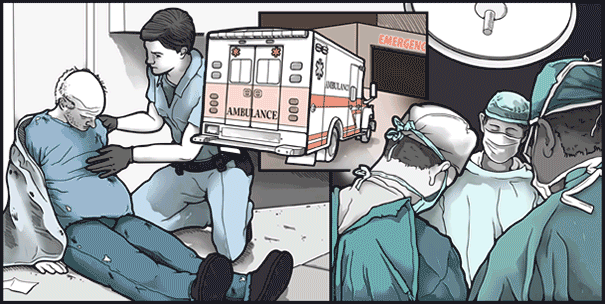 [az_box_icon animation_loading="yes" animation_loading_effects="move_left" icon="font-icon-vcard" title="Summary of Case and Question" position="left"] [/az_box_icon]
The case involves a 77-year-old man admitted to the ICU with severe sepsis due to fecal peritonitis. Having presented to ED in shock, drowsy and confused he is given a litre of intravenous crystalloid and antibiotics and is taken to the operating room for laparotomy. Gross fecal peritonitis from a perforated sigmoid colon is confirmed and Hartmann's procedure is performed with extensive peritoneal washout. Four liters of crystalloid are transfused perioperatively.
On arrival in the ICU, he is still anesthetized, intubated and mechanically ventilated. He remains hypotensive and tachycardic on a noradrenaline infusion. ABG demonstrates a partially compensated metabolic acidosis…
The first poll then asked which of the following therapies "should be instituted to reduce this patient's risk of dying from septic shock":
Intravenous gamma globulin
Intravenous hydrocortisone (50 mg QID)
Treatment with a statin
[az_box_icon animation_loading="yes" animation_loading_effects="move_left" icon="font-icon-trophy" title="Answer" position="left"] [/az_box_icon]
The majority of respondents (78%) elected to treat with hydrocortisone, with around 10% each selecting the alternatives.
The series editors (Finfer and Vincent), supported the use of steroids with significant caveats. Referring to the 2012 Surviving Sepsis Guidelines the editors point out that the use of steroids is only supported where hypotension is refractory to adequate fluid resuscitation and inotropes. The level of evidence supporting the use of steroids in this context is not strong (Level 2C), but is stronger than that supporting the use of either IVIG or statins.
The accompanying review of "Severe Sepsis and Septic Shock" can be found here and provides a good overview of the pathophysiology involved, the recommendations of the surviving sepsis campaign, and the search for new treatments. Again, this editorial is written by critical care experts (Derek Angus and Tom van der Poll) and is well worth reading.
Thanks to all of you who voted!
[az_progress_bar style_progress_bar="circle_progress" animation_loading="yes" animation_loading_effects="move_right" checkicon="custom_icon" icon="font-icon-light-bulb" field="Steroids" percentage="78″]