Notwithstanding our heroic efforts over the past few instalments to save our 77 year old with faecal peritonitis, he remains critically unwell and this month, the NEJM's excellent case series turns to focus on ventilation strategies in context of ARDS.
The case has so far looked at the treatment of shock, choice of resuscitation fluids, and haemodynamic monitoring in a 77 year old man in the ICU following a perforated sigmoid colon.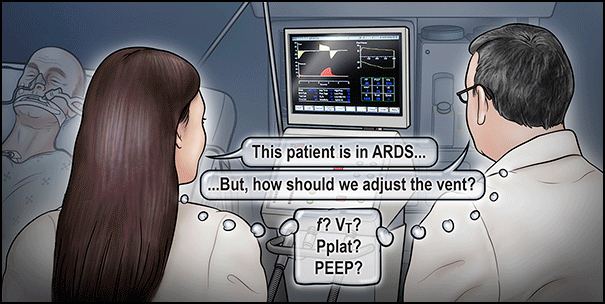 Presention of the case
A 77-year-old man whose medical history includes treated hypertension and hypercholesterolemia, previous heavy alcohol intake, and mild cognitive impairment was admitted to the intensive care unit (ICU) of a university hospital after a resection of the rectosigmoid colon with closure of the rectal stump and formation of an end colostomy performed for fecal peritonitis caused by a perforated sigmoid colon.
Now we must deal with setting the patient's ventilator. The patient is 178 cm tall and weighs 60 kg. On arrival in the ICU, he was hypotensive with a poor urine output. His arterial blood pressure has been supported with intravenous fluids and a norepinephrine infusion. After 24 hours in the ICU, he has a positive fluid balance of 2 liters.
Echocardiography shows normal left ventricular size and function, and a pulmonary-artery catheter shows that the pulmonary-artery occlusion pressure is 11 mm Hg. The patient is sedated and undergoing volume-cycled mechanical ventilation. Current ventilator settings are a tidal volume of 450 ml, a respiratory rate of 20 breaths per minute, a fraction of inspired oxygen (FiO2) of 0.6, and a positive end-expiratory pressure (PEEP) of 5 cm of water. Chest radiography shows bilateral diffuse alveolar infiltrates, current arterial blood gases are pH 7.25, the partial pressure of arterial oxygen (PaO2) is 74 mm Hg (9.8 kPa), the partial pressure of arterial carbon dioxide (PaCO2) is 55 mm Hg (7.3 kPa), and the plateau airway pressure (at a time of zero tracheal airflow) is 32 cm of water.
Poll Question
Which of the following ventilation strategies do you think provides the best support for our patient?
Continue with the current ventilator settings, but increase the respiratory rate and tidal volume to normalize the PaCO2.
Continue with the current ventilator mode, but decrease the tidal volume to 360 ml and increase the respiratory rate to 22 breaths per minute.
Change the ventilator mode to pressure-controlled synchronized intermittent mandatory ventilation with pressure support (SIMV/PS) with a PEEP of 10 cm of water, with a pressure control of 30 cm of water and pressure support of 20 cm of water above the PEEP.
Continue with the current ventilator mode, increase the PEEP to 10 cm of water, increase the respiratory rate to 22 breaths per minute, and decrease the current tidal volume slightly to keep the plateau pressure at 30 cm of water or less.
Cast your vote here (voting closes 26 November) and sumbit a comment justifying your choice. Take the time to check out the comments section to see how readers worldwide (from Iran to Florida) would tailor this patient's ventilation.
Check out the answer here!