The 6th installment of the NEJM's critical care series asked for your opinion on methods of ICU sedation in a ventilated elderly man. Voting has since closed and the editors have provided their opinion and an accompanying review article on sedation in the ICU. Read more to find out how sedation patterns vary worldwide and for a link to the excellent review article on pain, analgesia, sedation and delirium in the ICU.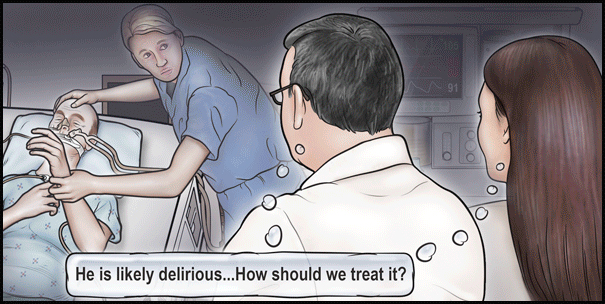 [az_box_icon animation_loading="yes" animation_loading_effects="move_left" icon="font-icon-vcard" title="Summary of Case and Question" position="left"] [/az_box_icon]
A 77-year-old man whose medical history includes treated hypertension and hypercholesterolemia, previous heavy alcohol intake, and mild cognitive impairment is admitted to the ICU after a Hartmann's procedure that was performed for fecal peritonitis. He is in septic shock with blood pressure  supported with a noradrenaline infusion. He is mechanically ventilated and has acute liver failure. Analgesia is being provided by a continuous morphine infusion.
At this point, respondents were asked to describe if/how they would sedate this man.
[az_box_icon animation_loading="yes" animation_loading_effects="move_left" icon="font-icon-trophy" title="Answer" position="left"] [/az_box_icon]
Most respondents elected to sedate with either propofol (28%) or an alpha-2-adrenoceptor agonist (36%) with daily sedation holds to assess ongoing needs; 15% chose to sedate with intermittent intravenous lorazepam while 18% chose not to sedate the patient at all.
[az_progress_bar style_progress_bar="circle_progress" animation_loading="yes" animation_loading_effects="move_right" checkicon="custom_icon" icon="font-icon-light-bulb" field="Non-benzo" percentage="64″]
The series editors suggest that non-benzodiazapine agents would be most appropriate ICU sedation in view of his risk of delirium, and point to the fact that the need for analgesia and sedation  be considered separtely. While currrent opinion favours "maintaining the minimum possible level of sedation and routinely monitoring the depth of sedation and targeting the lightest possible level of sedation" there is conflicting evidence regarding the benefit of daily sedation holds. Interestingly, a small single-centre study in 2010 demonstrated that no sedation (ie analgesia only) was associated with fewer days on the ventilator and a shorter ICU when compared with sedated patients with a daily sedation hold.
The editor's full response can be found here .
As usual, there is an excellent accompanying review article that covers the pharmacology of sedative agents, sedation measurement and the assessment and management of delirum in the ICU.