The results from Case 2 are in!
In case youve missed it, the NEJM is running a new series covering some key aspects of critical care. Each installment presents a clinical scenario before asking your opinion on a specific clinical question. When the poll results are in, a detailed review article relating to that topic is published.
While in Case 1 we looked at the management of severe sepsis (including the use of steroids), this installment focuses on the choice and use of resuscitation fluids.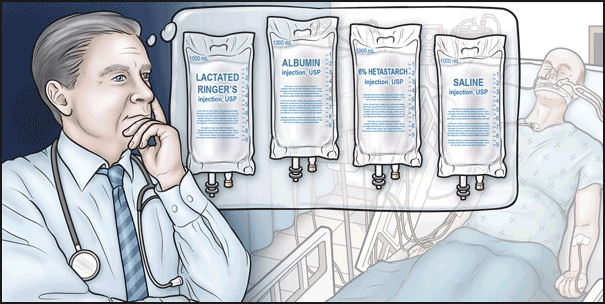 [az_box_icon animation_loading="yes" animation_loading_effects="move_left" icon="font-icon-vcard" title="Summary of Case and Question" position="left"] [/az_box_icon]
In Case 1 we were presented with a 77-year-old man admitted to the intensive care unit with fecal peritonitis and shock.
In Case 2, we learn more about his clinical state on arrival in the ICU following his emergency Hartmann's procedure: he is tachycardic and hypotensive with marked respiratory variation in BP, and he is oliguric with a CVP of 6 mm Hg. He is hypothermic and peripherally cool with prolonged capillary refill. Arterial blood gas demonstrates a raised lactate and a partially compensated metabolic acidosis, while serum biochemical analysis demonstrates normal sodium, serum chloride at the upper limit of the normal range and an elevated creatinine.
At this point, the second poll asked: "what fluid resuscitation would you choose to be administered over the next 30 minutes to 1 hour":
1. 1 liter of normal saline (0.9% sodium chloride).
2. 1 liter of Ringer's lactate (Hartmann's solution).
3. 500 ml of 6% hydroxyethyl starch
4. A total of 500 ml of 4% human albumin solution.
[az_box_icon animation_loading="yes" animation_loading_effects="move_left" icon="font-icon-trophy" title="Answer" position="left"] [/az_box_icon]
Responses worldwide were split roughly evenly between normal saline (36%), Hartmanns Solution (26%) and 4% Albumin (30%).
[az_progress_bar style_progress_bar="circle_progress" animation_loading="yes" animation_loading_effects="move_right" checkicon="custom_icon" icon="font-icon-light-bulb" field="Crystalloid " percentage="62″]
The series editors recommend the use of crystalloid initially based on the Surviving Sepis Guidelines. A balanced salt solution such as Hartmanns would probably be most appropriate given the patients elevated chloride, however as the author's point out, there is little robust evidence guiding the choice between crystalloid solutions.